How do we remember our contributors?
Some leave indelible impressions through tenure over years or even decades, thereby becoming part of an institution's fabric through their dependable presence. Others shine brightly, creating unforgettable memories regardless of their longevity. Others still permeate our consciousness for their role as selfless facilitators, whether lifting colleagues or the community at large.
A rare few check off each box. One way or another, though, our stakeholders make an impact. And this is the genesis of the series we're continuing in February.
20 in '20 celebrates the most moving measures and moments, agents and participants within and beyond our campus community who represent the totality of the St. Thomas mission since 2010. Twenty stirring examples each within Eagle academics and development, athletics, and alumni.
Enduring. Dynamic. Inspirational. Invaluable.
This is the fourth and final in a series.
Alumni
Greg '98 and Tim Gatlin '95
Brothers choosing decidedly different paths living the principles of Teach Me Goodness, Discipline and Knowledge.
Greg transitioned from Eagle Football state champion to daredevil defensive back at Rice to the world of corporate real estate to a 2010 deep dive into the barbecue business with his parents. In quicksilver fashion, he vaulted into one of the state's most respected pitmasters.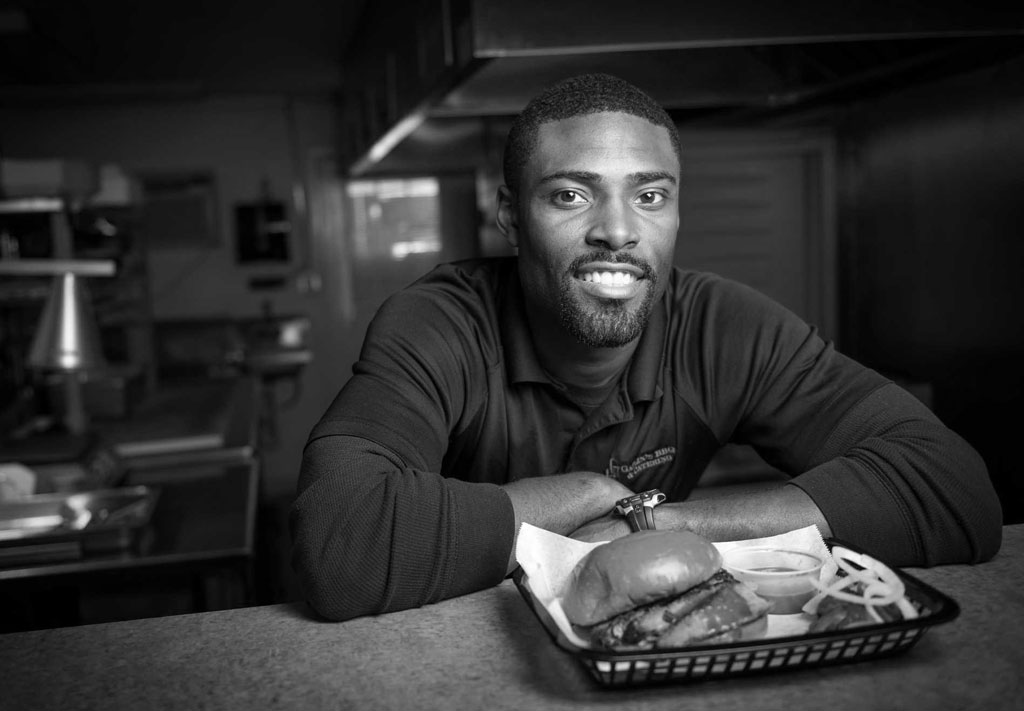 As a United States Army Lieutenant Colonel, Tim was named to the 2016-17 White House Fellows, one of America's most prestigious programs for leadership and public service, reserved for select individuals who typically spend a year working as a full-time, paid Fellow to senior White House staff, Cabinet Secretaries and other top-ranking government officials.
Lt. Colonel Gatlin owns more than two decades of experience in the integration and synchronization of combat arms operations. He has steadily risen through the ranks of command since receiving his Bachelor of Science in Economics from West Point in 1999, serving as Battery Executive Officer, Field Artillery Battery Commander, Company and Battalion Tactical Officer, and Battalion Executive Officer.
Gatlin conducted operations in support of the Army's counter-terrorism operations in Baghdad during Operation Iraqi Freedom and his awards include the Bronze Star Medal and the Meritorious Service Medal. He also received his Masters in Social Organizational Psychology and Leadership from Columbia University in 2010.
Danny Grant '78 and Vincent Giammalva '80
A pair of pivotal alumni leaders in the historic challenge of raising more than $60 million in a single capital campaign to further strengthen St. Thomas' forward momentum at the vanguard of college preparatory education, not only in Texas but throughout the region.
Grant and his wife Suzanne had been intimately involved in numerous fundraising efforts for St. Thomas, none bolder than the monumental 4500Forever initiative in 2014 that secured the funds for the historic Joplin Campus expansion.  The co-chairs were honored with the Distinguished Service Award for their extraordinary efforts in advancing the school. They have continued as tireless contributors to all things St. Thomas since the graduations of their sons Daniel `10 and Harrison '14.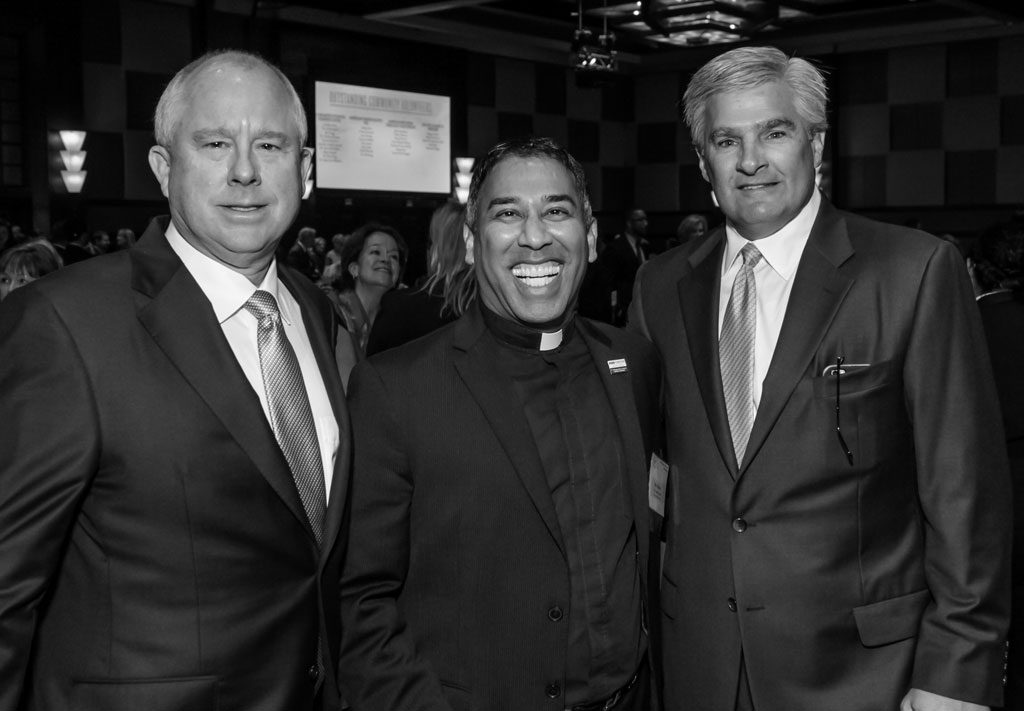 The president of Giammalva Properties, Inc. was also an invaluable presence fortifying 4500Forever, co-chairing the Finish Strong Phase II tier of the campaign.  Giammalva returned to campus to deliver the 2015 commencement address 35 years after his St. Thomas diploma ceremony. He launched a nearly three-decade career as both a real estate developer and broker, involved in more than $300 million in land sales transactions. After excelling with a national firm, Giamalva joined forces with his father Charles Sr. '57 in 1989.
Kurt Hanson '83
The St. Thomas board member relies on three simple yet essential priorities to remain focused: faith, family, and friends. St. Thomas is a vital presence in all three.
Hanson (second, left) has proven to be a stalwart Eagle since his undergraduate years. His father Neil '49 is a member of the St. Thomas Hall of Honor, and Hanson passed on the Basilian tradition to his son Kurt Jr. '14 who was a stellar two-sport scholar athlete for Eagle Athletics.
Hanson's devotion to his alma mater has deepened in recent years and was in full evidence during 4500Forever. His savvy expertise in a series of unwavering leadership roles proved crucial during a critical period in St. Thomas history.  In 2015 Hanson was promoted to Vice President and General Manager of the Power Systems Division at Mustang Cat after a decade as Vice President and General Counsel. In 2019 he was a catalyst behind Mustang CAT collaborating with the Houston Sabercats of Major League Rugby to raise significant financial support for Eagle Rugby.
Jordan Craig '07
There are forever bright new stars bursting on the Broadway and Hollywood scenes interpreting iconic roles, only to be never seen or heard from again, seemingly cast in a meteor shower radiating from one point in the night sky yet with a descent as rapid as the rise not quite reaching the heavens.
Craig appears positioned for a steady celestial stay after his National Tour debut in 2018 with the legendary The Phantom of the Opera.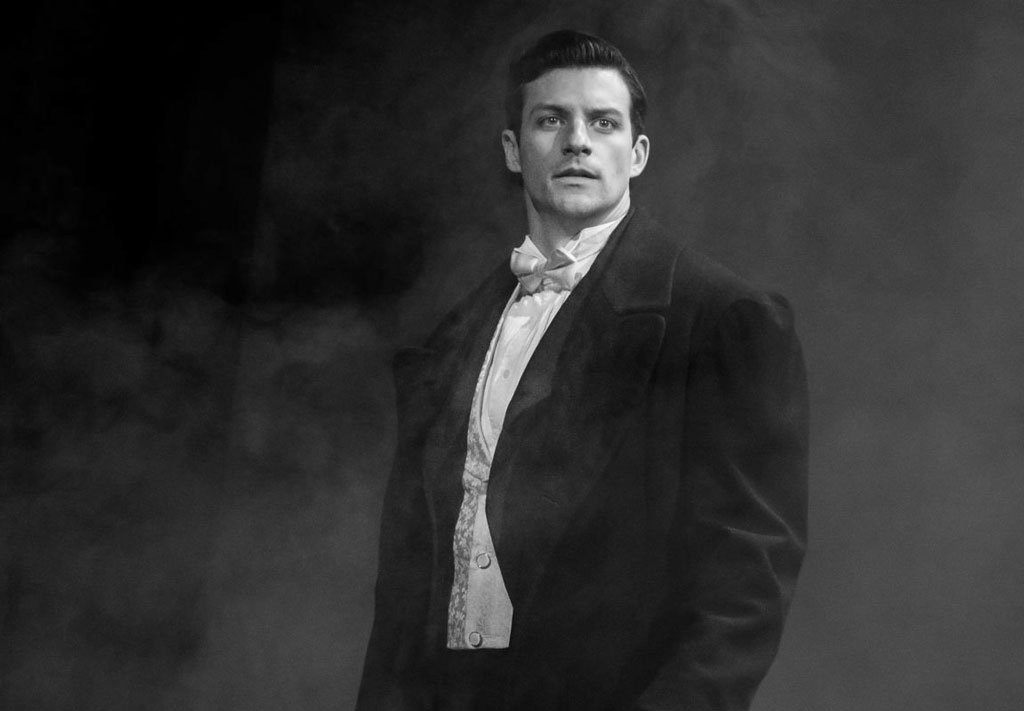 St. Thomas Hall of Honor Inductees
Only an exclusive 53 St. Thomas graduates since the school's inception in 1900 share the distinction of entry into the school's esteemed Hall of Honor.
The Class of 2010 – Milton Bearden '58, John Bradshaw '52, and Richard Huckaby '54.
The Class of 2012 – Michael Cemo '63, Ernest Cronin, MD '64; Neil Hanson '49, and Rev. Joseph Rick, CSC '1917.
The Class of 2014 – Ernest Braren `57, Johnny Finch `45, Charles Kitowski `94, and Lloyd Posey Webre `31.
Champions of industry. Relentless advocates for Catholic education and social justice. Deep philanthropic contributors. All leading changes that reflect our unique Basilian constellation of strengths and values.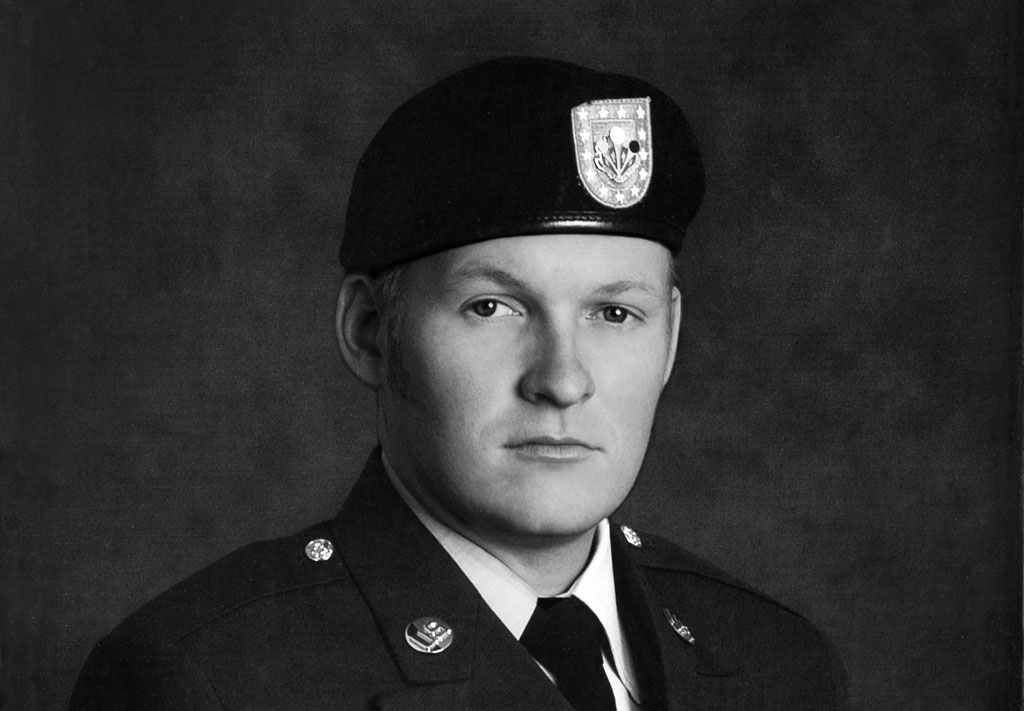 And in the case of Sgt. Kitowski, the ultimate individual sacrifice while serving in the 345th Psych Ops Company, 2nd Psych Ops Group, U.S. Army Civil Affairs and Psychological Operations Command. In 2007 he was killed after an improvised bomb detonated near his vehicle in Afghanistan during Operation Enduring Freedom. He was 31-years-old.
Sgt. Kitowski received the Purple Heart, Bronze Star, Meritorious Service Medal, and Combat Action Badge.
CLICK HERE for Frankie B. Mandola '65, Arturo Chavez '85, Patrick Ryan '99, Jay Vaughn '15, and Andrew Locke '03
CLICK HERE for Clark Sample '01, Jackie Burke '40, John Rathmell '75, Steve Tyrell '63, and John Sage '96
CLICK HERE for Brendan Cahill '81, Rick Apolskis '85, Tom Horan '62, Ross McLauchlan '07, and Francisco (Paco) Magsaysay '86
CLICK HERE for The Most Impactful Identities in St. Thomas Academics and Development Since 2010
CLICK HERE for The Most Impactful Identities in St. Thomas Athletics Since 2010
Catholic. Basilian. Teaching Goodness, Discipline, and Knowledge since 1900.