GAMEDAY CENTRAL

WEEK 10 – PARSLEY FIELD AT KUBIAK STADIUM

Eagle Football 49
St. Pius X 24
WHAT YOU NEED TO KNOW
Dazzling dual-threat dynamo Dante Lewis '24 ran for 163 yards with three touchdowns, threw for 218 yards and a fourth TD, and connected with Shaffer Henderson '23 on a dazzling completion to set up a score as Eagle Football romped and stomped to its ninth straight win without a loss.
Undefeated Eagle Football (9-0, 3-0) is now one knock away from matching its undefeated 2013 regular season and continues to own the long-standing Shepherd Drive rivalry, stacking a fifth consecutive win and 10th in the previous 11 games. From 2012-15, St. Thomas captured four showdowns in a row with the district title at stake by a combined score of 144-62.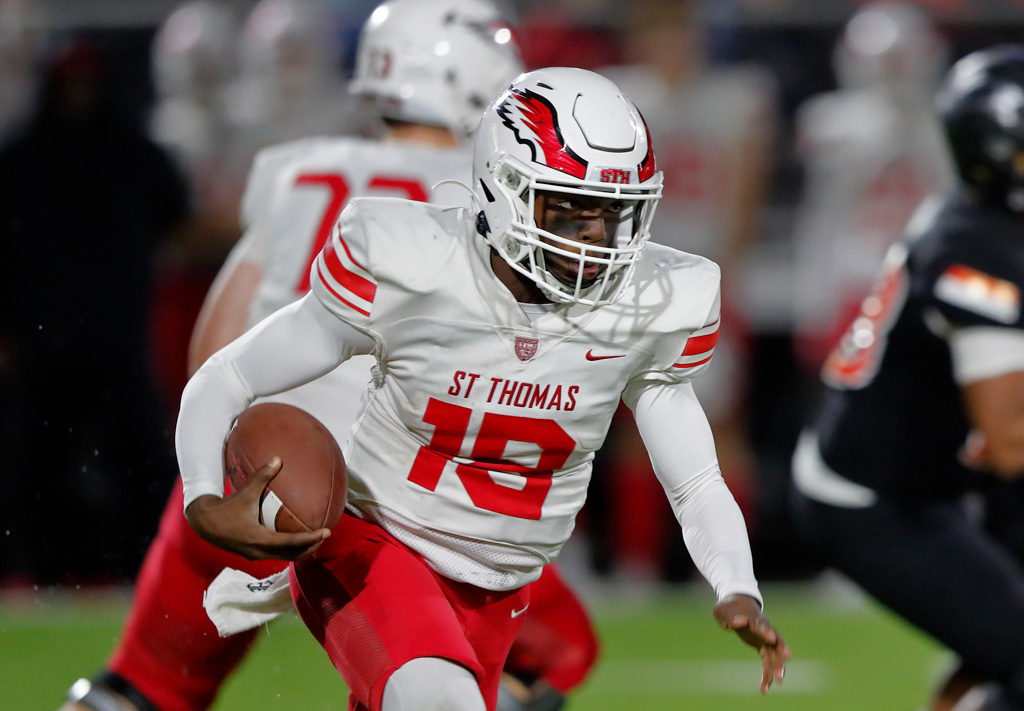 TURNING POINT
With an imposing 28-10 halftime advantage, the nasty Eagle defense turned doomsday when Grant Stewart '25 raced 30 yards down the right sideline for a pick six – the grandest return since Liam Gallagher sold out consecutive shows at iconic Knebworth 26 years after Oasis blasted in front of 250,000 fans.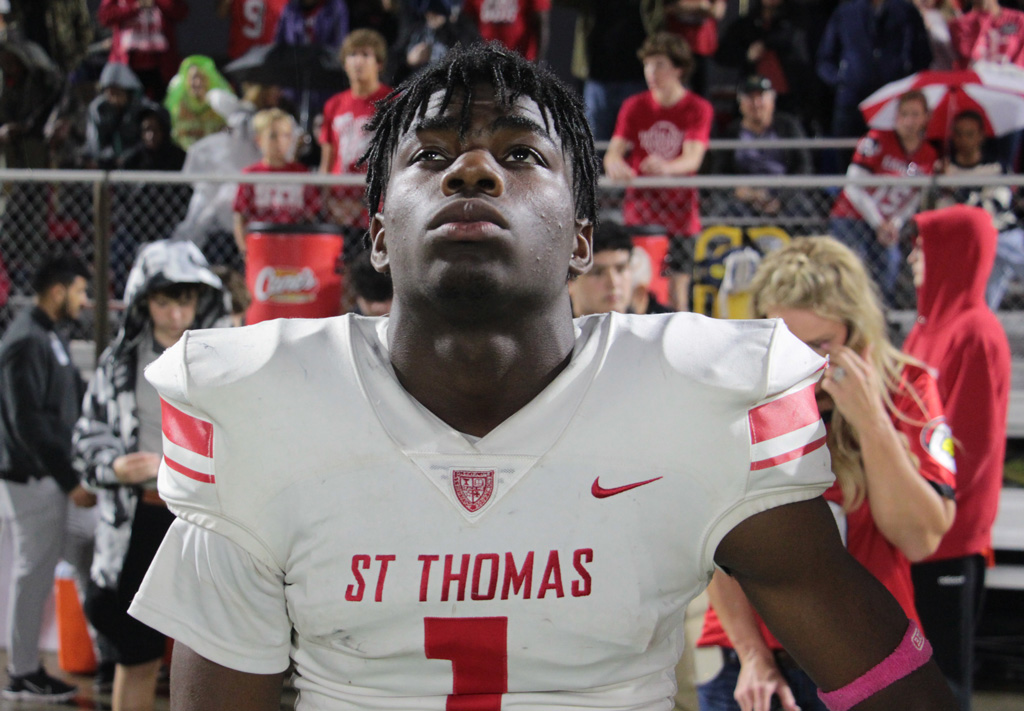 After a swift three and out, Lewis roamed to his right near midfield, broke to the outside, and accelerated as if Usain Bolt adding to his precious gold collection. Lewis turned on the turbojets to race untouched for an electric 60-yard house call. The touchdown maker has now been a part of 28 scores for the season.
Two snaps, one each on offense and defense, decidedly stamped the slam dance proceedings.
FRIDAY NIGHT FIVE
1. In their latest installment, the Eagles instilled enough spooky week fear and fright in their hosts to rival the demented Scream slasher Billy and his creepy accomplice Stu reeking torment and terror throughout Woodsboro ("Scary night, isn't it? … Like right out of a horror movie or something.").
2. Lewis was the unquestioned mesmerizing star, seemingly unleashing a couple of darts every game that dilate your pupils. On the Eagles' second series, he was flushed out of the pocket to his left and somehow summoned an arcing tight spiral on the move across his body that traveled more than 50 yards in the air to an extended Henderson in stride to the St. Pius X 10-yard line – more jaw-dropping than the closing scenes of the 'Mizumono' episode of Hannibal when Lecter's viciousness and cruelty resulted in stunning bloodshed.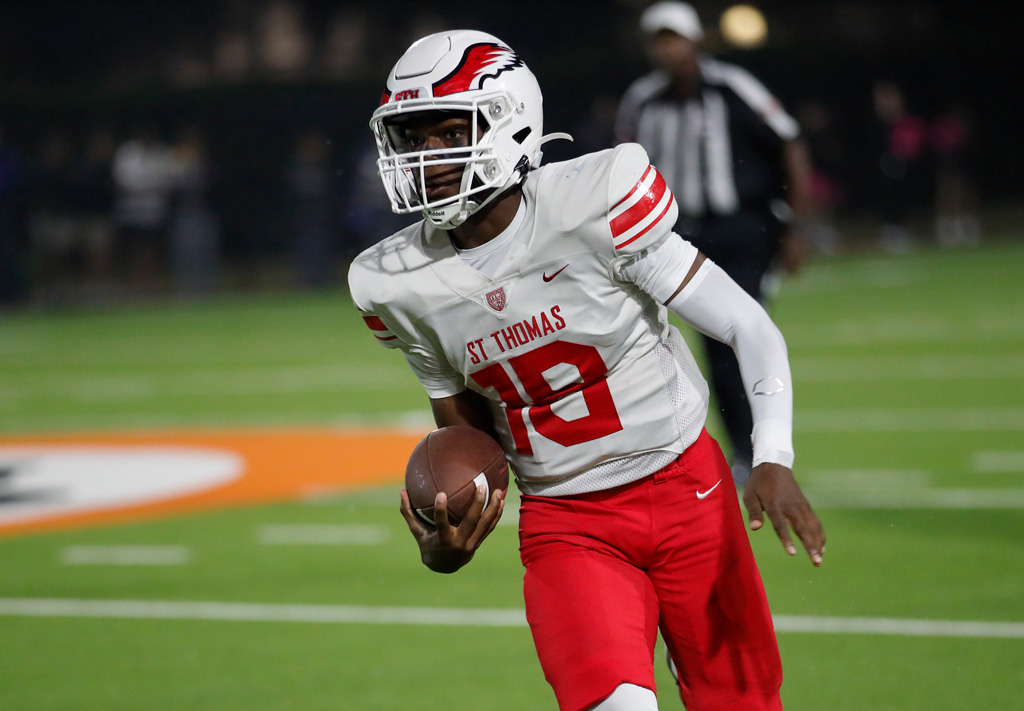 3. Two plays later, running back Raymond Varra '25 crashed in for the first of his two short-range rushing touchdowns in his first extended varsity action.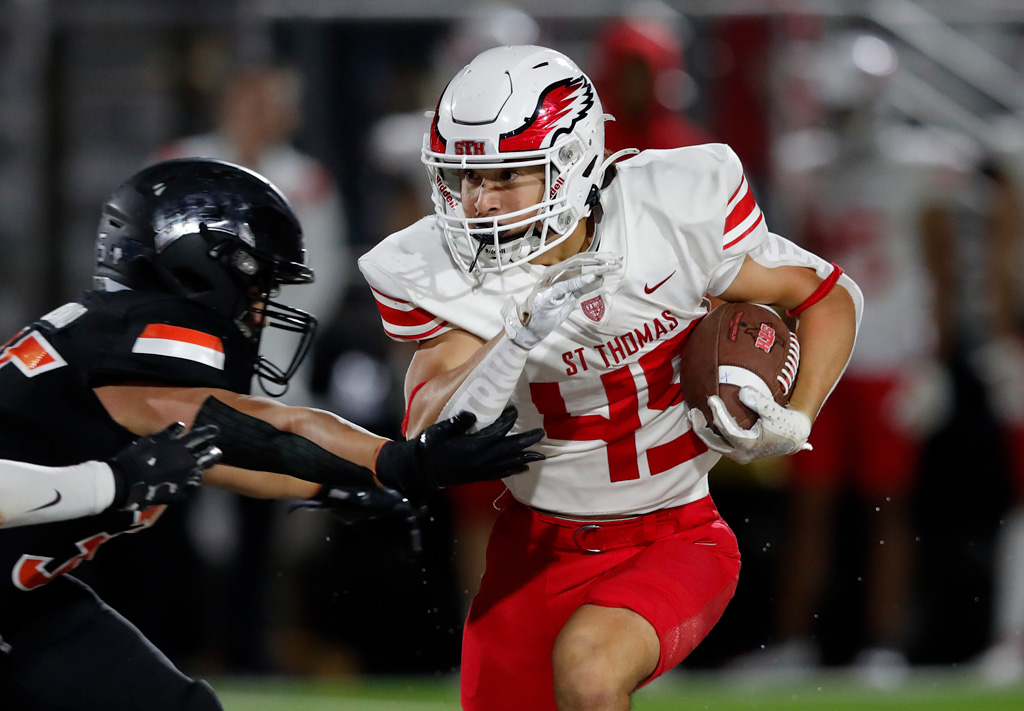 4. Lewis inflicted enough mayhem to match Buffy and the rest of the Vampire Slayer Scooby Gang crossing paths with the Gentlemen, a nightmarish group of well-dressed demons who stole your voice before they cut out your heart. In the second period, the Eagles' dynamic QB1 converted a fourth-and-short with a 19-yard jolt to the Panthers' 14-yard line. He finished the drive with a tasty touchdown jaunt, rolling rolling rolling left with not one but two ankle-breaking jukes on his way to the left corner of the end zone for 14-0.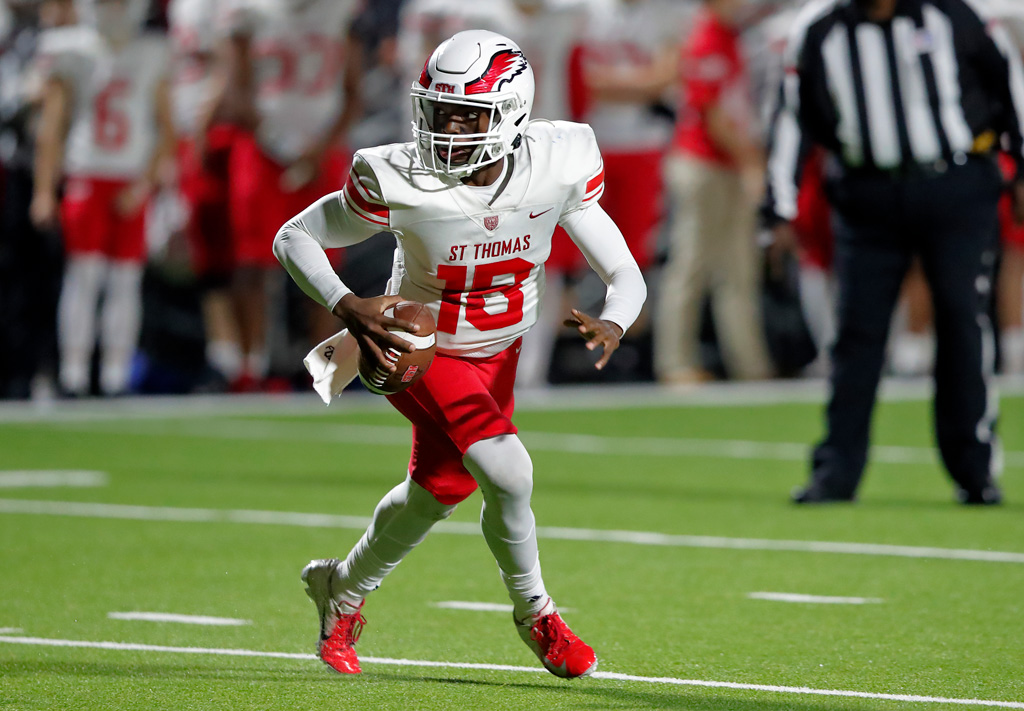 5. Lewis then dialed in physical receiver Luke Edgecomb '23 for a 47-yard pitch-and-breakaway run. The tough-running Vara collected the final 19 yards on two carries on his way to rushing for 109 yards and a 21-7 margin. That quicksilver three-play scoring series was followed by a rapid-fire four-snap payoff set with Lewis putting a 30-yard laser on the hands of receiver Nick Ferruzzo '23 burning coverage to the post for 28-10.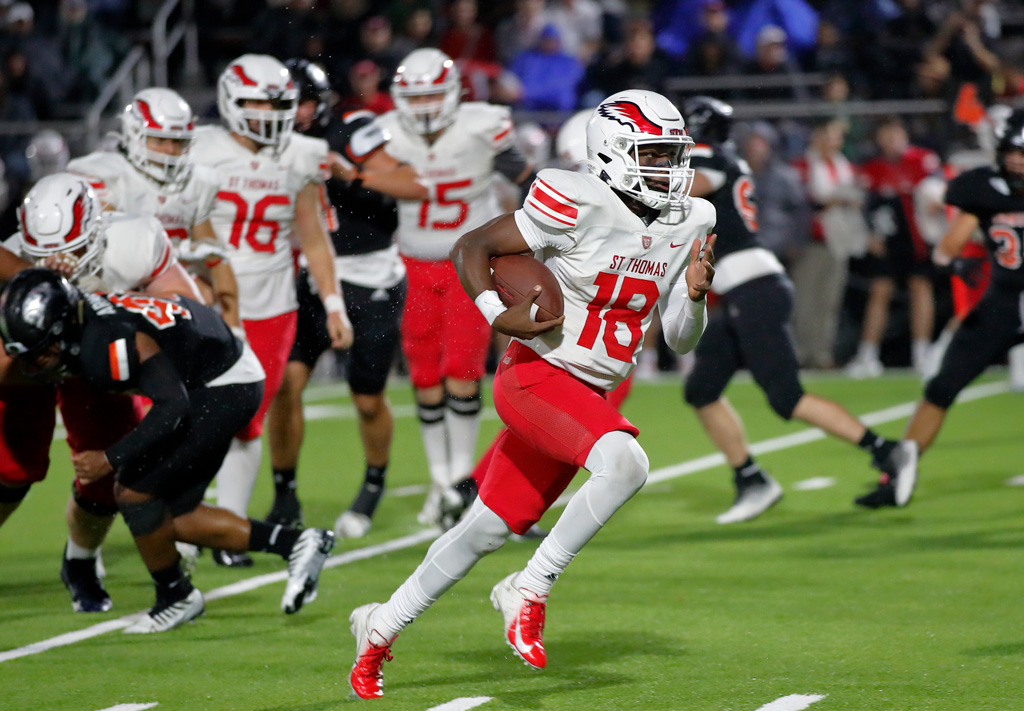 https://twitter.com/STHCatholic/status/1587131987600576512?s=20&t=DWZFp8lI9iiYQ-FpKjfNpg
VIVA LA BAM
With the hometown Astros opening the 2022 World Series less than 10 miles away and wasting an early 5-0 advantage to the Philadelphia Phillies, Eagle Football played Drax the Destroyer start to finish. The St. Thomas demolition crew dictated the rules of engagement, consistently forcing the Panthers to punt from their own territory, and allowing only one first half touchdown.
ROCKIN' THE FILLMORE
The Eagles piled up 533 total yards, never punted, emphatically rebounded from an opening red zone turnover, posted touchdowns on four straight first half possessions, and then plastered points back-to-back in the third period for a commanding 39-point bulge before a pair of SPX consolation touchdowns inflated the final score.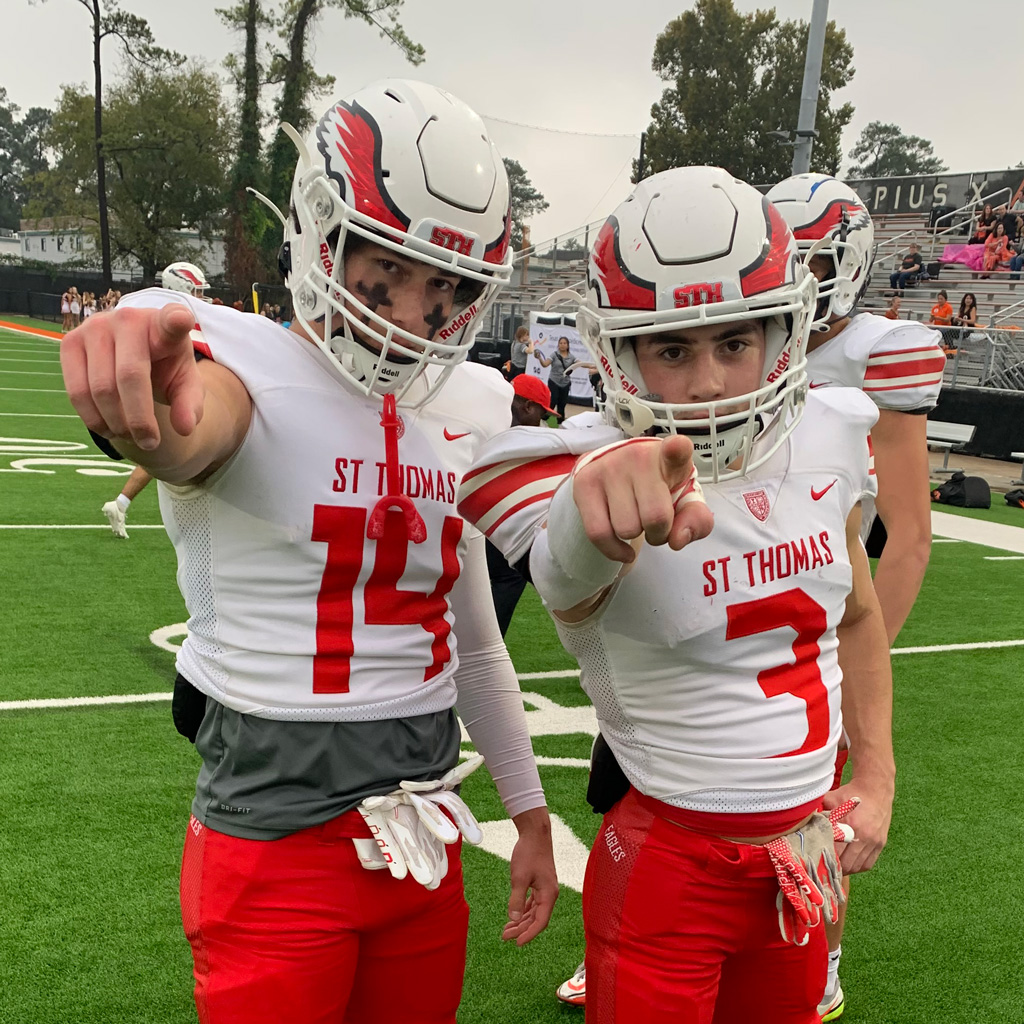 ¡UNO!, ¡DOS!, ¡TRÉ!
Eagle Football started Week 10 the unanimous no. 1 in the Houston Chronicle private school rankings for the sixth consecutive week and no. 3 in Dave Campbell's Texas Football state poll for the fourth straight week.
McGuire is in his sixth season as head coach and improves his overall record to 42-22, 23-4.
Eagle Football is now 22-1 in district since 2018.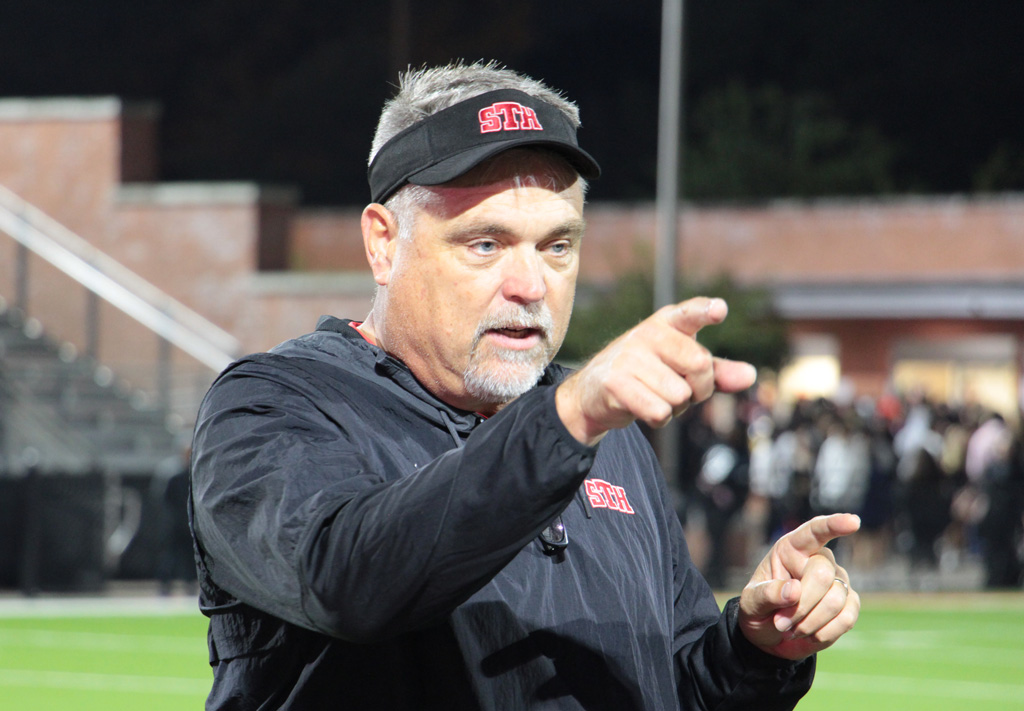 PREVIOUSLY
GameDay Central || Unbeaten Eagle Football Rocks and Rolls to Seventh Straight Win
GameDay Central || Undefeated Eagle Football Hammers San Antonio Catholic to Open District
GameDay Central || Undefeated Eagle Football Downs Kinkaid for Best Launch Since 2013
GameDay Central || Eagle Football Dominant in Catholic Bowl II for Best Start since 2015
GameDay Central || Eagle Football Roars in Home Debut for 2-0 Start
GameDay Central || Eagle Football Soars to Dazzling Debut Win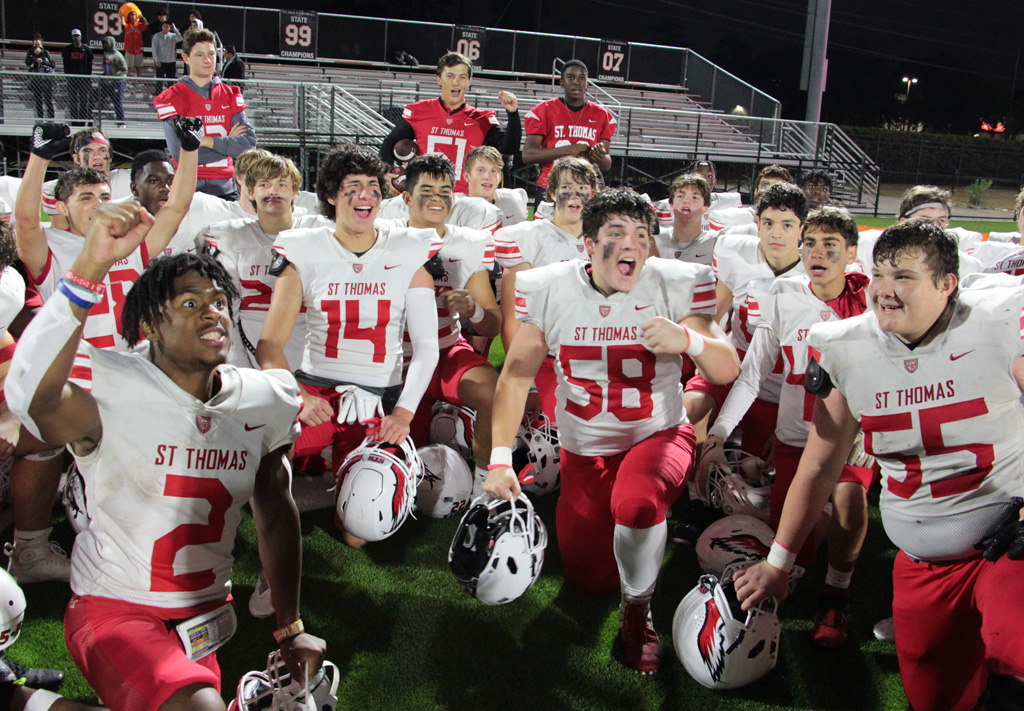 UPCOMING
The Eagles stage Senior Night against San Antonio Antonian at Hotze Field inside Granger Stadium. A sixth straight over the Apaches would not only close a perfect regular season but also clinch a fourth unbeaten district title since 2018 and at least a share of the crown for the fifth straight season.
Eagle Fight Never Dies!