COUNTDOWN TO KICKOFF

TAPPS REGIONAL FINAL – TIGER FIELD, BELTON
WHAT YOU NEED TO KNOW
Eagle Football (9-1, 3-1) travels November 18 to face Addison Trinity Christian Academy (3-7, 2-2) at 7:00 p.m. seeking the second state semifinal in four seasons for St. Thomas and fourth since 2014.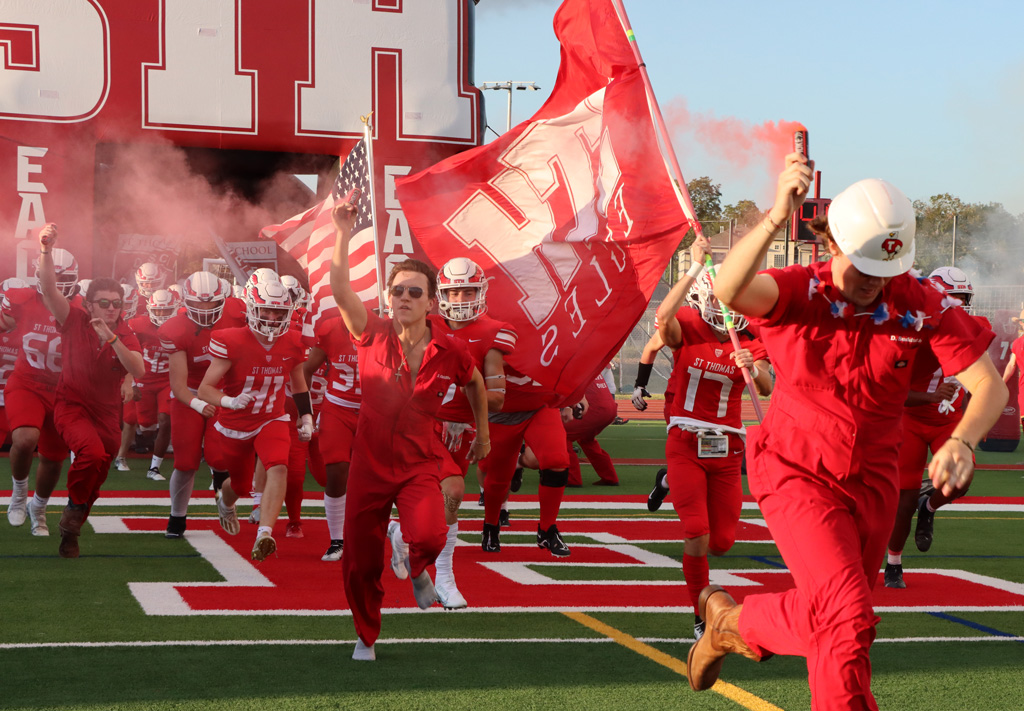 SETTING THE SCENE
Eagle Football launches the postseason ranked no. 2 in the Houston Chronicle private school rankings after seven consecutive weeks as the unanimous no. 1. St. Thomas closes no. 5 in the final Dave Campbell's Texas Football state poll.
ROAD TO REDEMPTION
A last minute 38-35 setback to San Antonio Antonian prevented St. Thomas from cementing an undefeated regular season and snapped a 10-game home-field winning streak.
Mad-scramble magician Donte Lewis '24 threw for three touchdowns and added a miraculous see-still-not-believe 15-yard escape for a fourth score but the escapades weren't enough to rescue the win. The Eagles rallied to tie the game five times when trailing by seven points but couldn't survive their Thursday evening of living dangerously.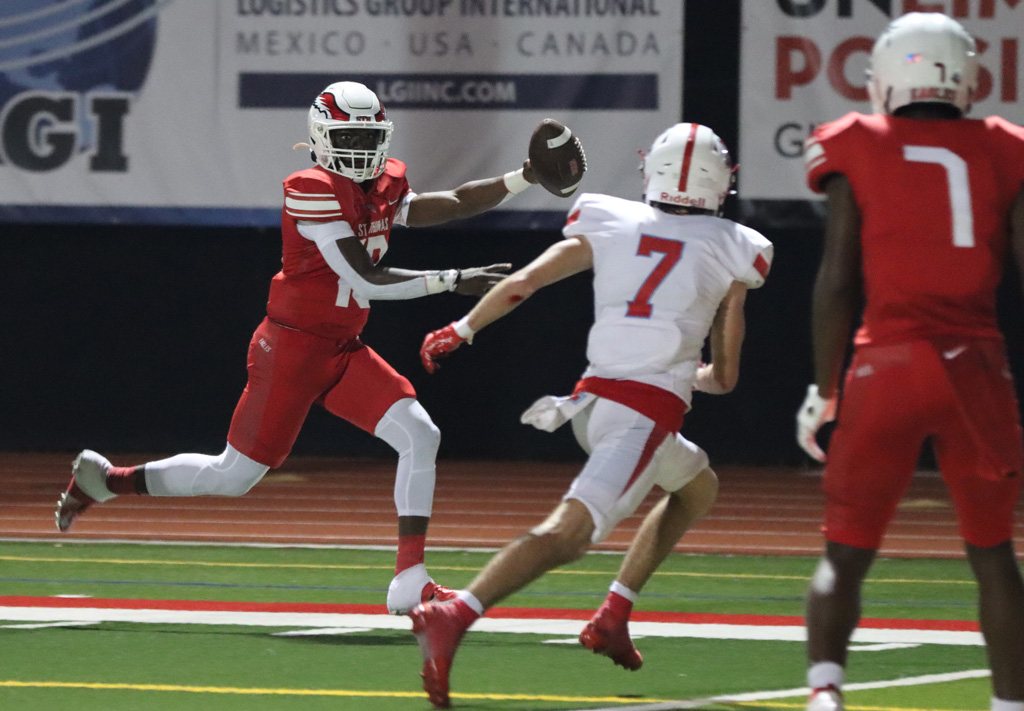 ROCKIN' THE FILLMORE
Lewis was named the Built Ford Tough Player of the Week presented by Bally Sports Southwest following his scintillating performance in the 49-24 floor wipe of St. Pius X.
The dazzling dual-threat dynamo ran for 163 yards with three touchdowns, threw for 218 yards and a fourth TD, connecting with Shaffer Henderson '23 on a dazzling completion to set up a score as Eagle Football romped and stomped to its ninth straight win without a loss.
https://twitter.com/STHCatholic/status/1587131987600576512?s=20&t=LzqOtdUcm_xBOu3B_iYyBg
Lewis matched his predecessors Maddox Kopp '21 (Colorado) and Jake Wright '22 (Pittsburg State) in receiving the prestigious POW award. And, yes, all no. 18 in your program.
RAVE ON
Rich McGuire is in his sixth season as head coach with an overall record of 42-23, 23-4. Eagle Football is 22-2 in district since 2018.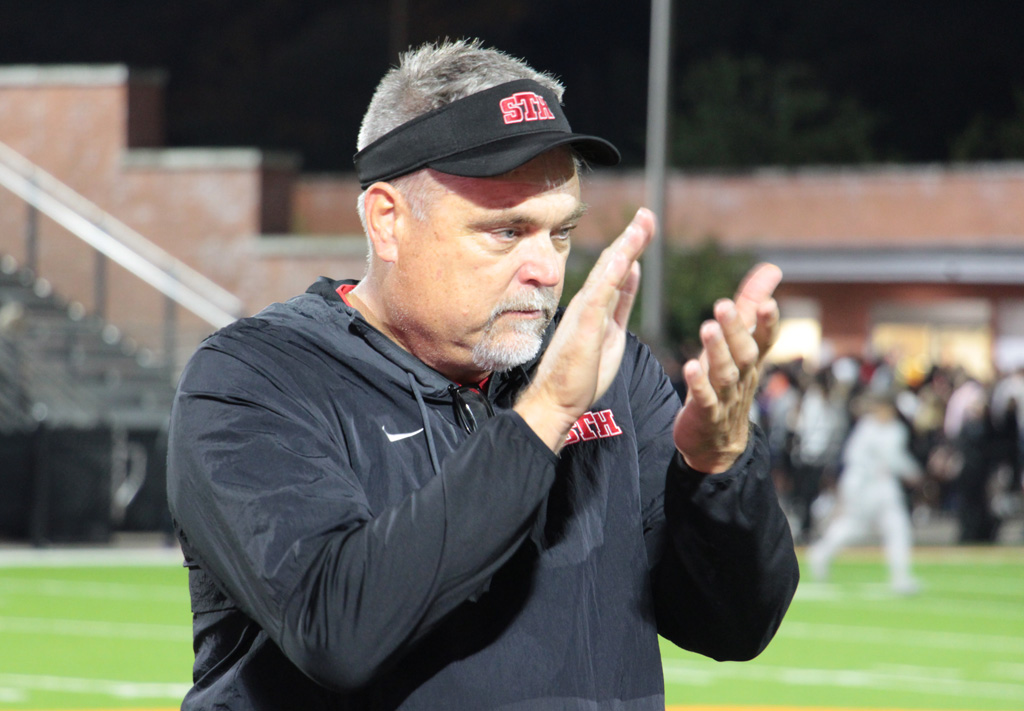 In his first season as a varsity starter, Lewis racked 2,704 total yards and was part of 32 scores (24 passing and eight rushing) in nine games while seemingly unleashing a couple of throws every week that dilated your pupils. His was an improvisation that was remarkably engaging and intelligent, but never gratuitously complex or unusual. Think Dexter Gordon on the tenor sax.
Wrecking ball running back Johann Cardenas '24 concluded 2022 bruising, bashing, and bolting for 1,041 rushing yards (9.6 per carry) and 1,371 yards from scrimmage with 18 end zone trips in only seven games.
Henderson and Luke Edgecombe '24 evenly split more than a 1,000 receiving yards with 11 touchdowns while both averaging more than 20 yards a reception.
Masters of mayhem Jack Ward '23 (101 tackles), Jack Keeler '23 (81 tackles), Zach Rocha '23 (69 tackles), and Tyler Day '23 (five tackles for loss) racked a body count to rival the merger aftermath of Warner Bros. Discovery. Safety Caleb Davis '23 (four interceptions) and mighty-mite defensive back Marquis Kiatta '24 (three takeaways) tag-teamed among the demons of demolition to reduce opponents to a zombie parade that put Kingdom and The Walking Dead to shame.
DEJA VU ALL OVER AGAIN
Eagle Football cruised to a runaway 51-35 win over TCA to open the 2019 postseason. Kopp feasted on a scoring buffet of seven touchdowns in his varsity playoff debut – throwing, running, and a Super Bowl-like "Philly Special" reception in the pivotal first half at Hotze Field inside Granger Stadium.
The Eagles led 14-0 after the first period, 28-10 at halftime, and were never really threatened as they raced to their sixth straight victory and seventh in eight games.
St. Thomas answered TCA's first points of the game midway second period when Kopp then took a direct shotgun snap inside the Trojans 10-yard line. He handed off to running back John Fontenot '21 moving left, who then flipped the ball to reversing receiver Spencer Kryger '20.
Kryger didn't try to run the ball. He didn't even pause. He simply rolled right and lofted a short pass to the front right corner of the end zone, where Kopp cradled the first touchdown reception of his varsity career. The trickeration was reminiscent of the antics featuring Philadelphia Eagles quarterback Nick Foles in their pasting of the New England Patriots in Super Bowl LII.
It was Kryger's fourth completion of the season. In four attempts. With all four resulting in touchdowns. Seriously.
MILES AND MILES OF TEXAS (sponsored by Asleep at the Wheel)
The upcoming visit to Belton means the TAPPS state football playoffs add yet another destination on the postseason odyssey for Eagle Football. The joyride travelogue since 2011 includes at least one stop in Austin, Temple, Teague, Groesbeck, Palestine, Plano, Fairfield, Rusk, the Ford Center at The Star in Frisco, Fredericksburg, and Buffalo.
SMELLS LIKE TEEN SPIRIT
Click Here for the Senior Night Gallery
PREVIOUSLY
Staying Perfect || Undefeated Eagle Football Stomps St. Pius X for Ninth Straight Win
GameDay Central || Unbeaten Eagle Football Rocks and Rolls to Seventh Straight Win
GameDay Central || Undefeated Eagle Football Hammers San Antonio Catholic to Open District
GameDay Central || Undefeated Eagle Football Downs Kinkaid for Best Launch Since 2013
GameDay Central || Eagle Football Dominant in Catholic Bowl II for Best Start since 2015
GameDay Central || Eagle Football Roars in Home Debut for 2-0 Start
GameDay Central || Eagle Football Soars to Dazzling Debut Win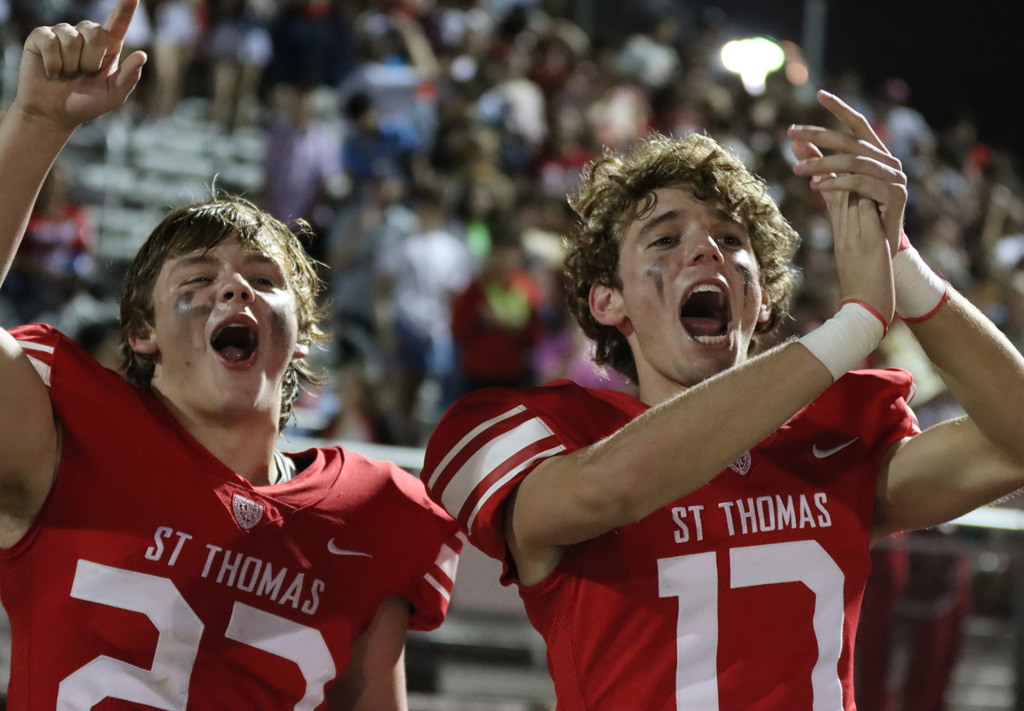 Eagle Fight Never Dies!