GAMEDAY CENTRAL

TAPPS DIVISION I REGIONAL FINAL, TIGER FIELD, BELTON

Addison Trinity Christian Academy 21
Eagle Football 27 (ot)
WHAT YOU NEED TO KNOW
Irrepressible Donte Lewis '24 flashed four touchdowns, including a go-ahead score in the final minute of the fourth quarter and the game-winning throw in overtime to scintillating Shaffer Henderson '23 as Eagle Football rallied for a 27-21 thriller and a TAPPS Division I regional championship.
Donte's inferno of clutch moved St. Thomas (10-1) to its second state semifinal in four seasons and fourth since 2014. The Eagles will return to Tiger Stadium in Belton for a 2:00 p.m. kickoff Saturday, November 26 against three-time state champion Dallas Parish Episcopal for a shot at the championship final.
Eagle Football is aiming for its first state title tilt since a 38-28 defeat to San Antonio Central Catholic in 2001.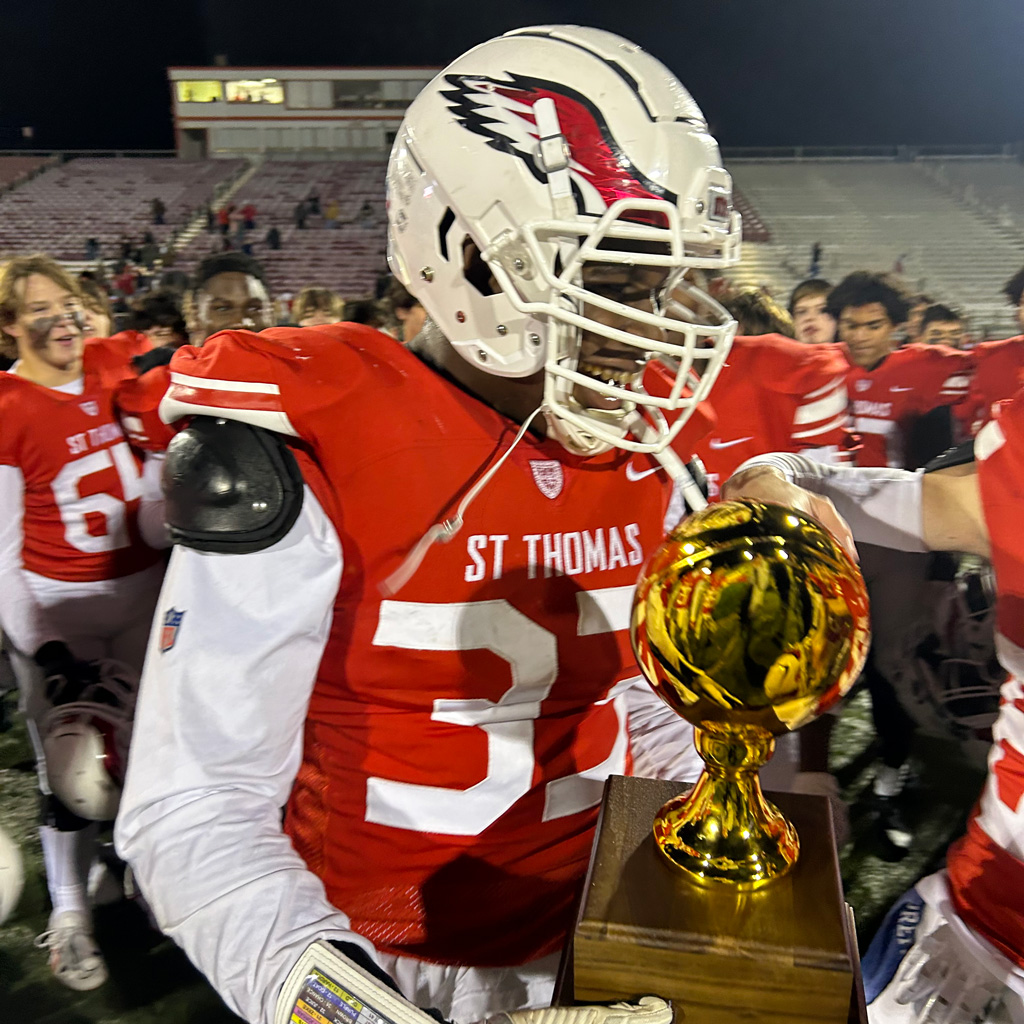 TURNING POINT
A lethargic Eagles offense was scoreless since early in the second quarter and faced a perilous 18-14 deficit with less than 5:30 remaining in regulation.
The dazzling dual-threat Lewis orchestrated a marathon 15-play, 65-yard drive that demanded converting three third downs. He recapture the lead after rolling out of pressure, sprinting to the left pylon for his second rushing touchdown of the night and a slim 21-18 cushion with only 57 ticks left in the fourth period.
TCA recovered to force overtime with a 38-yard field goal in the closing seconds. In the words and spirit of Shirley Manson, it was necessary for St. Thomas to "Push It."
Ray Davis's demolition crew had racked a body count to rival the merger aftermath of Warner Bros. Discovery. In the extra session, bone-crushing linebackers Tyler Day '24 and Jack Ward '23 led a relentless charge that stoned the Trojans three times from inside the four-yard line.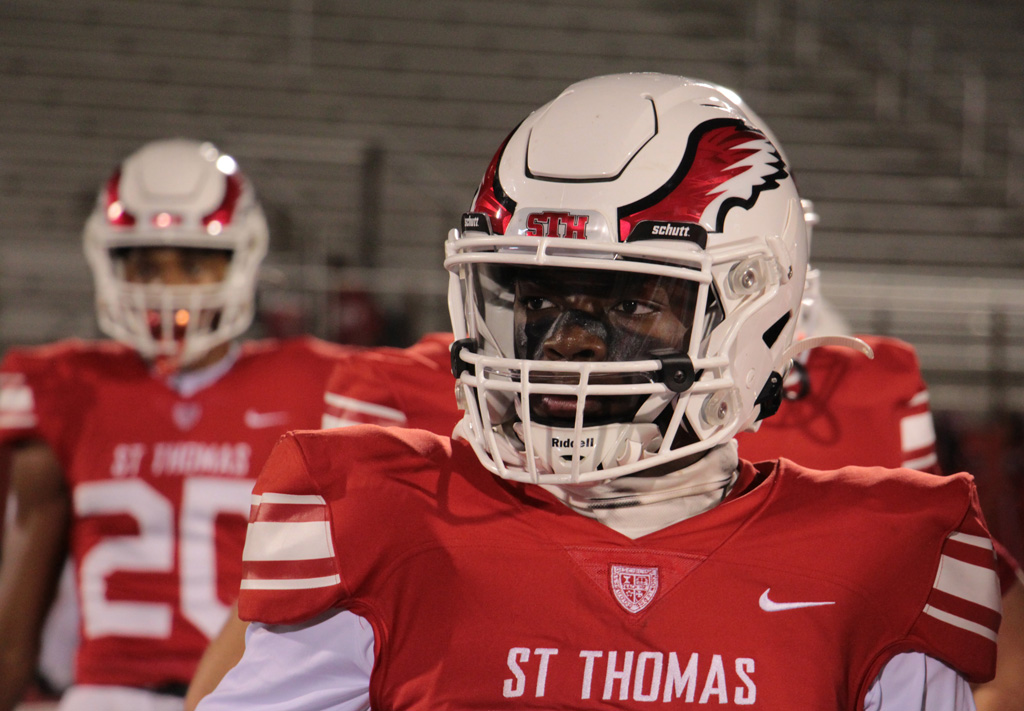 Lewis took over and proceeded to tap into his inner Sam & Dave.
When the day comes and you're down
In a river of trouble and about to drown
Just hold on, I'm comin'
Hold on, I'm comin'
On third-and-five from the 20-yard line, Lewis was coming with the shotgun snap and dialing Henderson with a pluperfect pass to the right corner of the end zone. The isolation coverage had zero chance defending 'NASA Z Aggie.' Henderson glue-gripped and toe-tapped his second score with the most important grab of his career – and ninth touchdown of the season – to complete the improbable comeback.
As Funkadelic might ask – can you get to that?
FRIDAY NIGHT FIVE
1. Eagle Football staged its biggest big beat strong since the three-chord mayhem of The Woggles.
2. Lewis was yet again a thrill-a-second ride reminiscent of the syncopated single-note riffs, pyrotechnic finger-tapping, elastic dive-bombs, and whammy bar squeals of Eddie Van Halen. Figuring out exactly how QB1 rescued victory from the jaws of jeopardy should be one of those legendary physics equations that take 100 years to solve.
3. Lewis now has participated in 36 touchdowns in 10 games. On the game's opening series, he tag-teamed with receiver Larry Benton '24 for a 45-yard explosive. Lewis then delivered on a designed draw to the left sideline for 17 yards and a 7-0 jump less than two minutes into the playoffs.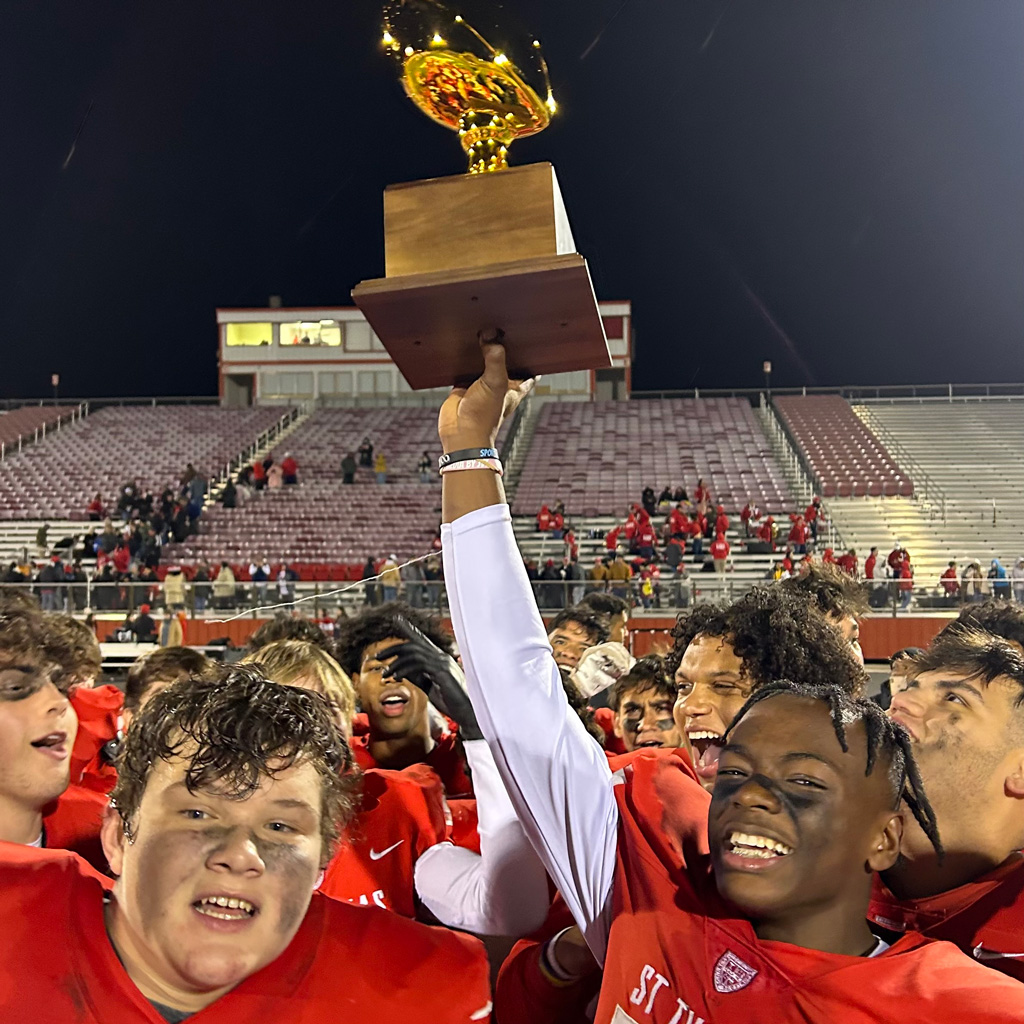 4. The Eagles' third possession was their most methodical march of the season – 19 snaps worth 99 yards, overcoming four third downs, a fourth-and-12, plus a holding penalty that required first-and-20. Lewis provided the payoff punch to Henderson with a sign of theatrics to come. The tantalizing twosome exploited a man-to-man matchup on the right boundary for a 33-yard score and 14-3.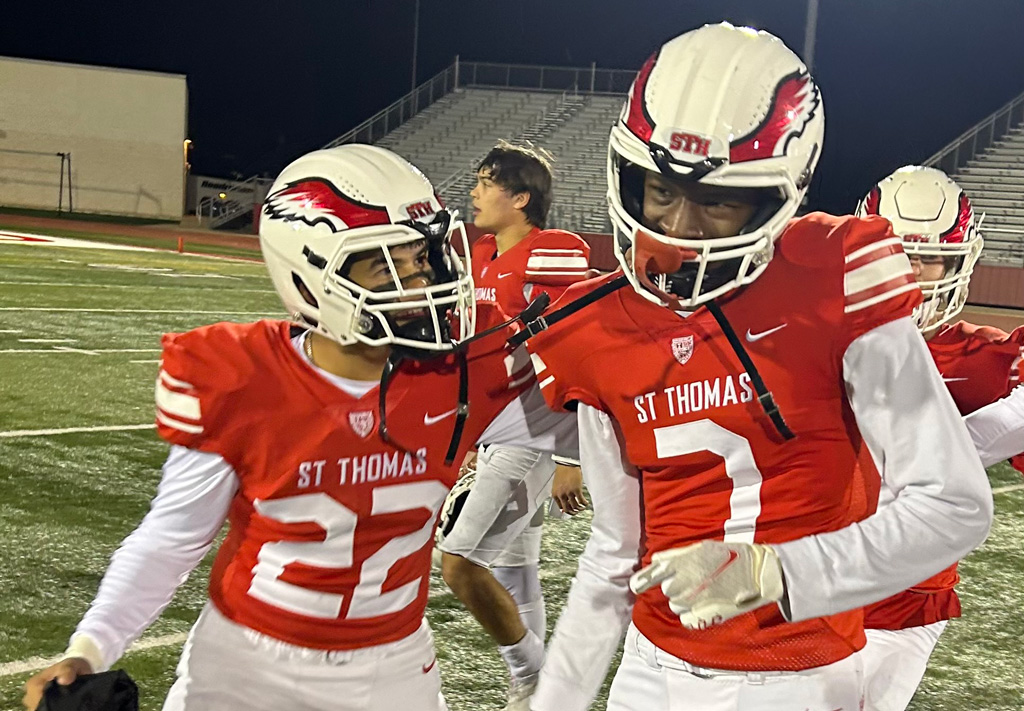 5. The swat and swarm defensive unit responded rather impressively to tasting its own blood in its mouth. Five times they answered in the game's elevated atmosphere to force red zone field goals.  And by the outrageous last call, the Eagles braved a calamitous evening by mastering the moxie of properly shaken Cantaritos traditionally served in jarritos. A survive and advance escape with the season on life support. And now, one of four still standing for the crown.
https://twitter.com/sthcatholic/status/1594102081647960064?s=46&t=VpJKahx03tjrqGmkwZsR0g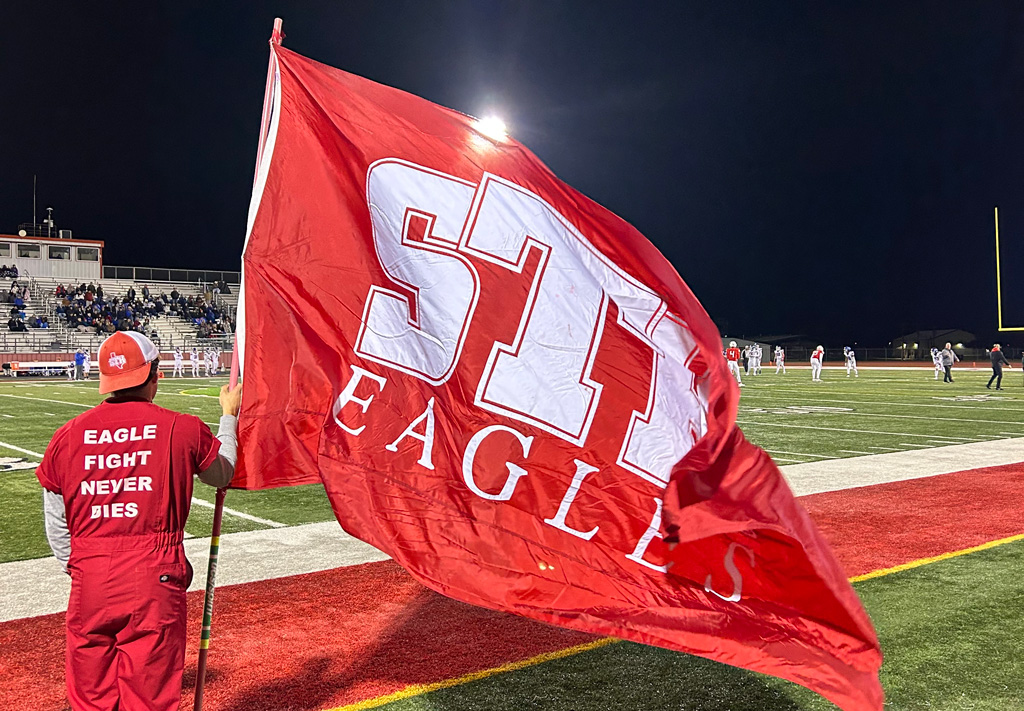 ¡UNO!, ¡DOS!, ¡TRÉ!
Eagle Football ended the regular season ranked no. 2 in the Houston Chronicle private school rankings after seven consecutive weeks as the unanimous no. 1. St. Thomas closes no. 5 in the final Dave Campbell's Texas Football state poll.
McGuire is in his sixth season as head coach with an overall record of 43-23 and improves to 4-5 in the postseason.
Eagle Football is 22-2 in the district since 2018 with three consecutive undefeated titles and a share of the championship in 2021.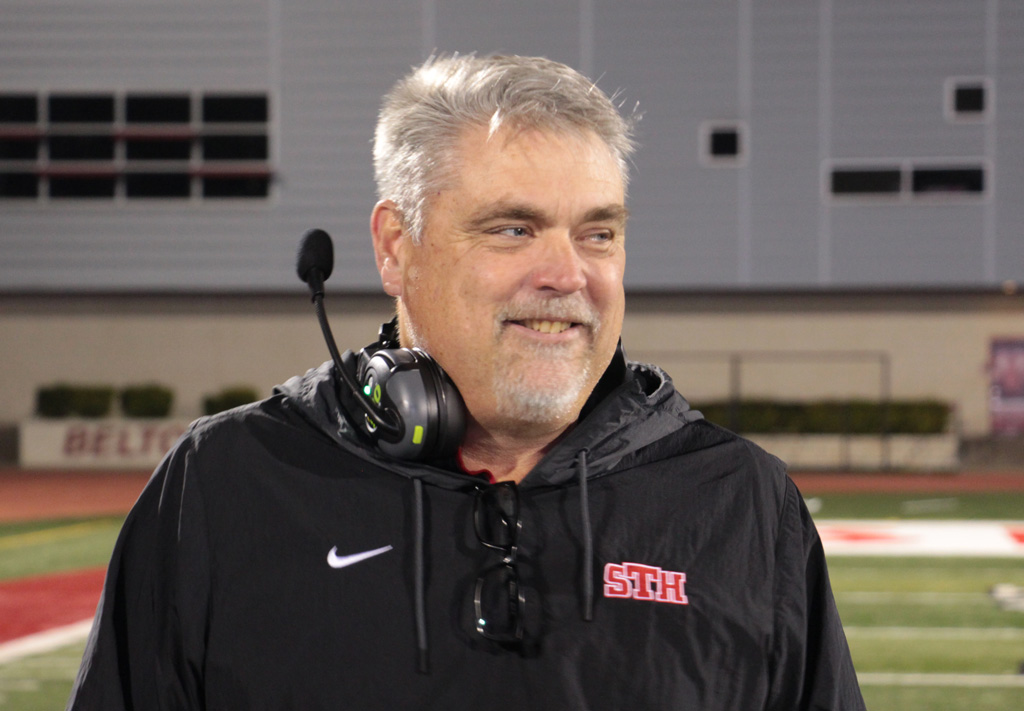 MILES AND MILES OF TEXAS (sponsored by Asleep at the Wheel)
The return visit to Belton means the TAPPS state football playoffs extend the joyride travelogue for Eagle Football. The postseason odyssey since 2011 includes at least one stop in Austin, Temple, Teague, Groesbeck, Palestine, Plano, Fairfield, Rusk, the Ford Center at The Star in Frisco, Fredericksburg, and Buffalo.
PREVIOUSLY
Staying Perfect || Undefeated Eagle Football Stomps St. Pius X for Ninth Straight Win
GameDay Central || Unbeaten Eagle Football Rocks and Rolls to Seventh Straight Win
GameDay Central || Undefeated Eagle Football Hammers San Antonio Catholic to Open District
GameDay Central || Undefeated Eagle Football Downs Kinkaid for Best Launch Since 2013
GameDay Central || Eagle Football Dominant in Catholic Bowl II for Best Start since 2015
GameDay Central || Eagle Football Roars in Home Debut for 2-0 Start
GameDay Central || Eagle Football Soars to Dazzling Debut Win
Eagle Fight Never Dies!